Lifefood strives to work with small family businesses as much as possible. In fact, it's a key part of our approach, helping us and our partners grow and develop. Our partners have to meet many conditions, in addition to being fair in their dealings, it is also important that our partners grow their crops without the use of chemicals. In short, no pesticides, herbicides etc. can ever be used while growing ingredients for our products. Nothing that could harm nature, the soil, or the people who care for it can be used.
Today, we have the honor of introducing you to a small farm in Kenya. It supplies us with delicious and nutritious macadamia nuts. A little miracle, these nuts are full of surprising health benefits.
MACADAMIA NUTS FROM FAMILY-OWNED FARMS SURROUNDING Mt. KENYA
Our macadamias come from small family-owned farms surrounding Mt. Kenya. In addition to macadamia nuts, other crops, such as mangoes, avocados, bananas, coffee, cereals and beans are grown in this picturesque tropical environment at an altitude of 1,500 m above sea level. While tea is grown as a monoculture in large swaths of this region with the use of pesticides, macadamia trees line the small and colorful lands of small farmers and thrive without the use of herbicides and pesticides. Henry Kinoti is one of the first farmers in this region to have started growing ORGANIC-certified macadamia nuts.
More than 1,000 macadamia trees grow on his land in the Meru region. Most of them were planted 15 to 18 years ago. Several generations of Henry's family have benefited from the trees - his son, Mugambi, is currently taking over the farm. Macadamias are fertile for a very long time, they have an average lifespan of 75 to 100 years. That is why they have earned the name "pension" trees.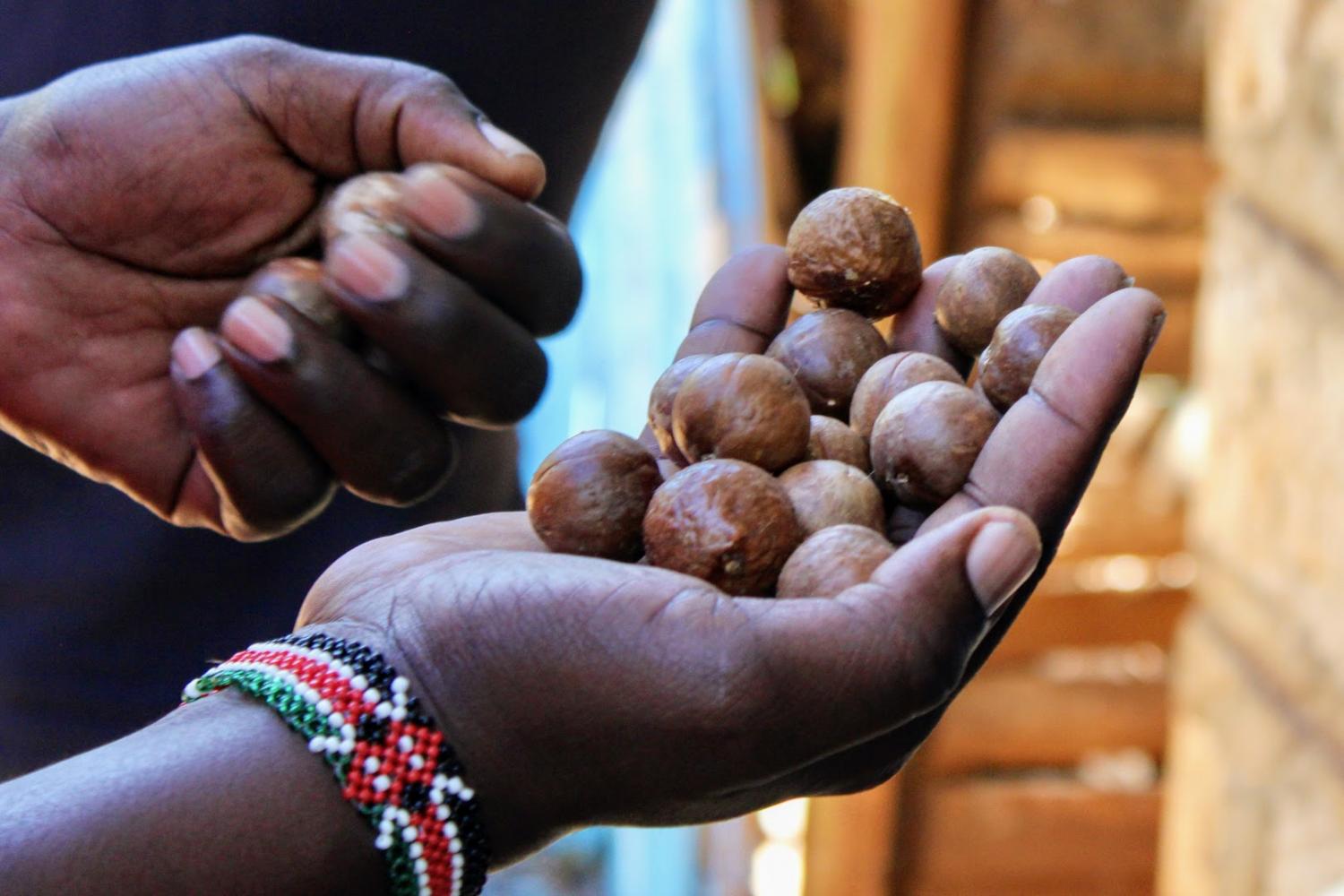 In the Kirinyaga area, farmer Evanson Njeru already takes care of older trees, his macadamia trees are usually around 50 years old. They have been an important source of livelihood for him for a long time.
FAIR TRADE HAS A DIRECT IMPACT ON SPECIFIC FAMILIES
Farmers in Kenya receive 10-15% more money from the sale of certified ORGANIC macadamia nuts than from the sale of conventional nuts. They also receive an additional 15% on top of that thanks to their participation in the fair trade system.
Our supplier buys ORGANIC and fair trade macadamia nuts directly from the farmers, not from intermediaries. This is far more difficult to coordinate, however, he has a well-established system of regional purchasing stations and field workers equipped with motorcycles. This allows them to be in contact with farmers even in more remote areas, where the sale of their products is an irreplaceable source of finance for them.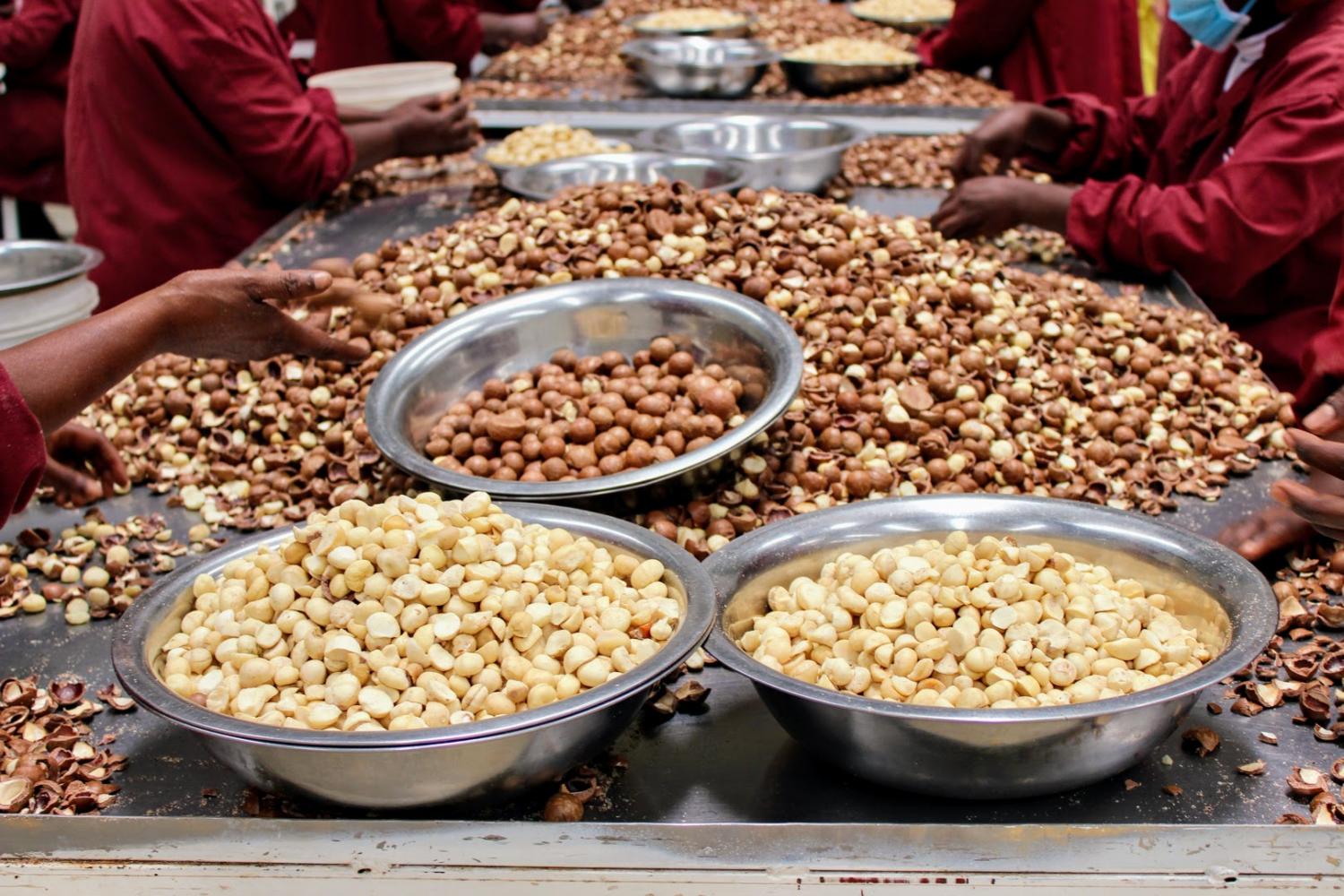 The farmers receive the money immediately at the time of sale, without delay, which is a great benefit to them.
This is far from the usual standard, large companies benefit from being able to dictate terms and conditions to small farmers, who then have to wait long months for their payments. That doesn't happen with fair trade. Everyone is rewarded for their work as soon as possible.
JOBS FOR WOMEN
Macadamia nuts are bought whole, still in their skins. They are then dried and only then is the skin removed. This is followed by manual sorting, which takes place in several stages, and finally the nuts are packed into vacuum sealed bags. At our supplier's company in Nairobi, more than 300 employees are involved in this process, most of whom are women. This is a very important social aspect, because in some cases whole families are dependent these women. The opportunity to earn money and be independent is irreplaceable for them.