We believe producing amazing products of the highest possible quality is not quite enough. When it comes down to product packaging, Lifefood is now committed to become 100% eco-friendly and sustainable. 
At first glance, one would think switching from traditional plastic packaging to compostable packaging would not be a big deal and could be done without much effort. But then we need to question - why aren't more companies already packaging their products in compostable boxes, bags, or wrappers?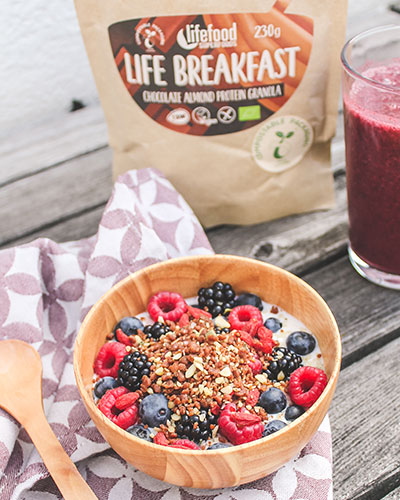 In fact, finding compostable packaging that really helps preserve our planet and at the same time is suitable for food products is not an easy task at all. In this article we explain why it is so hard to find biodegradable packaging and why some materials that are sold as equivalent can do more harm than ordinary plastic.
Our first project is with our latest creation, Life Breakfast, which is packaged exclusively in compostable packaging. Gradually, all our products will be converted to biodegradable packaging. 
It is a step by step process that takes longer than you would think but we are proud to announce that our range ofprotein powders will follow very soon.Its packaging will switchfrom plastic tubs to the same brown compostable bags as our Life Breakfast.
Plastic wraps inside
Next up on the list is the thin plastic wrapper inside the box of ourLife Crackers. In the near future, this will be made of cellulose and will be 100% compostableas well. The same applies to the popular Lifebar energy bars - which are the most difficult to package in an environmentally friendly way - but even these products we will do our best to replace the plasticwrapperwitha compostable alternative.
Unfortunately, there are many types of packaging that appear to be environmentally friendly at first sight. But appearance is deceptive as the majority has a second layer of plastic inside the main packaging. This means that the entire packaging cannot be disposed of via the compostable route and all the effort was pretty much useless. For our Life Breakfast packaging we use paper (made from agricultural waste) for the outer layer and biodegradable Bioplast for the inner layer. Both substances are produced on the basis of renewable raw materials and are completely biodegradable.
What about the label?
The next hurdle in the attempt to develop a 100% compostable packaging is the label which is often made fromglossy paper and printed with very toxic ink. Furthermore,the label has to adhere to the pack, and for this to be done a glue which is quite often toxic, isused. Thus, it is not only important to look at the outer packaging, but alsorespect the labels and make sure they also meettheenvironmentally friendly criteria to make a productpackagingfully compostable.
After extensive research, we have found a Dutch company that is able to produce 100% eco labels including printing and adhesive. Bio4Life has helped us to come a step closer to our goal of offering compostable packaging.
... And what about reclosable strip?

Still, the process is not quite finished! The last detail to consider is the reclosable strip which allows us to reseal the packaging after use. 
Many manufacturers do not think of this detail, because it is "just such a small plastic item". However, if the consumer throws the packaging into the organic waste, this small, reclosable strip, made of plastic, ends up in thecompostable wasteas well. We think that's a pity! 
Therefore, in our packaging you will find a strip made out of biodegradable Bioplast, which is also, just like the rest of the packaging, 100% compostable.
So by now you might be wondering why we make all this effort for our products?
It is obvious that the production of such eco-friendly packaging is much more expensive and time consuming than the normal packaging made out of pure plastic. But we are simply not living alone on this planet and we have to start savingour limited resources and making good use of them. Each of us can do something good for the environment and contribute by reducing and preventing waste. If you want to show your commitment, simply buy consciously.It is up to us to make the right choice!