They are such an indispensable part of the kitchen - we are talking about herbs of any kind. Whether you are a fan of basil, parsley or thyme - there are no limits to creativity. With a few tips and tricks, your home can soon become a perfect place for your own little herb garden.
Advantages of home-grown fruits and vegetables
There is more than one reason to grow your own herbs, vegetables and fruits yourself. One of these reasons is clearly in the cultivation itself. Anyone who plants and harvests their own food knows exactly where it comes from. This way a controlled high organic quality can be guaranteed.
If you wonder where your vegetables really come from, quite often you have to take a closer look. With self-cultivation, this is not necessary as you already know about the growing conditions.
Another important factor is money. For some people, organic quality is still associated with high costs and many of us simply cannot afford it or find it hard to justify the price difference. However, if you do not want to miss out, you can save a lot of money at home by cultivating produce yourself and enjoy the highest quality.
Seeds or plants?
Anyone who gets closer to buying and planting their own garden sooner or later comes up with the question - seeds or ready-made plants?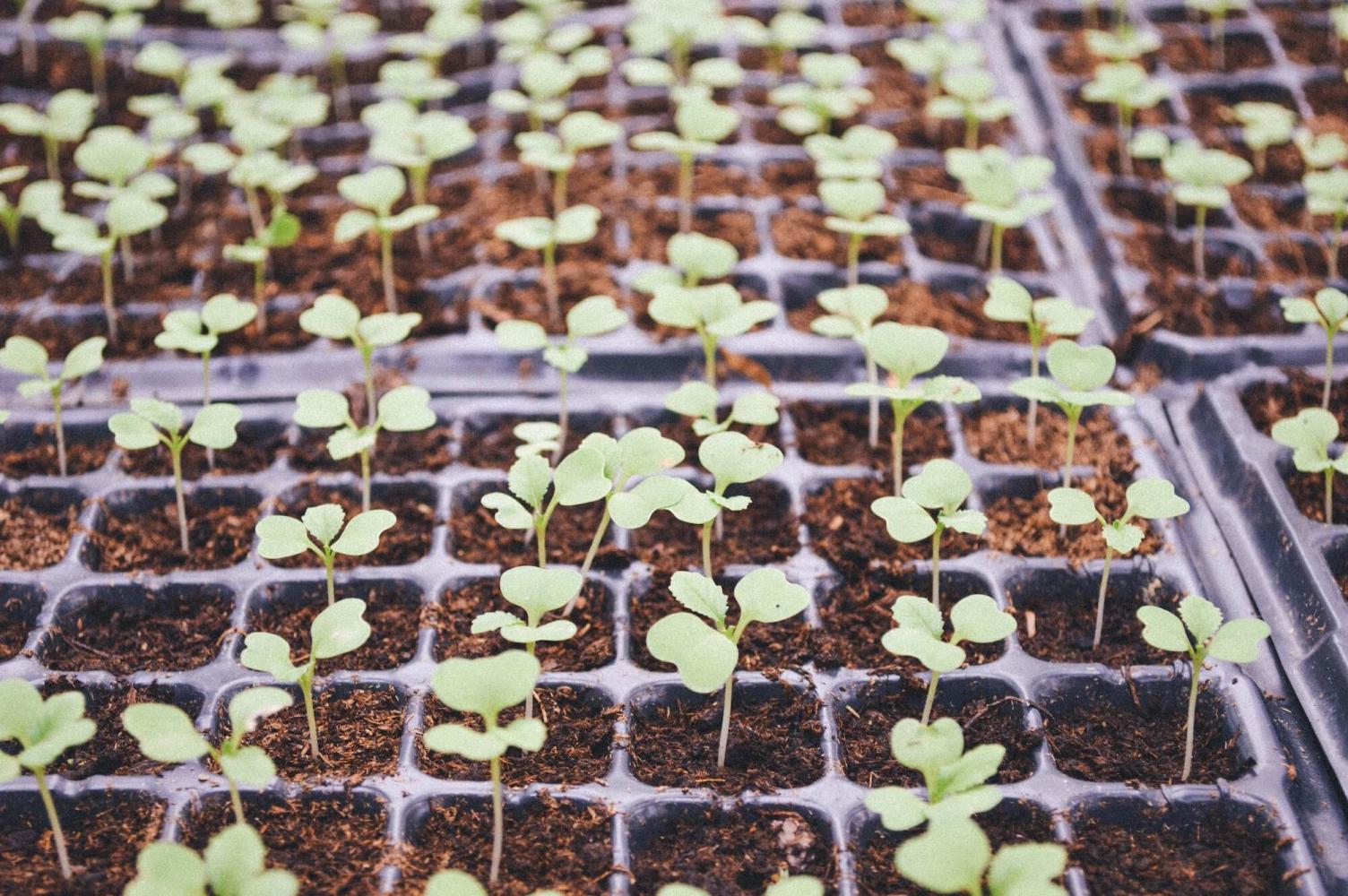 No matter which one you go for, both will get you to your goal - there are only a few advantages and disadvantages involved. Seeds are available to buy everywhere and thus make it quite simple to start. All plants will grow from scratch and can gradually get used to the prevailing climate in your garden. If you follow the instructions on the packaging, you can soon harvest your first fresh herbs.
But even with ready-made plants, you can easily set up your herb paradise. With plants, you can harvest some leaves straightaway to add to your cooking without having to wait for the seeds to turn into a plant. Unfortunately, it is worth knowing that these plants might die faster, due to the long journeys to get to the shops and sometimes due to the small size of the pots which may damage the herbs.
When is the best time to plant your own herb garden?
Of course, a little preparation is required when you want to create your first herb garden. With a little skill and the right timing, the plants bloom much faster. For each plant there is an appropriate time in the calendar when they should be planted - for example, lavender is preferably sown and harvested between May and September. It should be noted that some of these plants - including lavender - need a certain pre-germination period. This should always be taken into account for a perfect result.
In general, however, it can be said that the months of November to February should be avoided for the cultivation of a herb garden and spring is a really good time to get started.
Planting herbs: General tips about the herb garden
If you want your plants to have a long and healthy life, you should take the following tips into consideration. First of all, it is important to ensure that no moisture can form at the bottom of the pot. This can be prevented by simply drilling some holes in the bottom of the pot. This way, excess moisture can be prevented and mold has no chance to develop.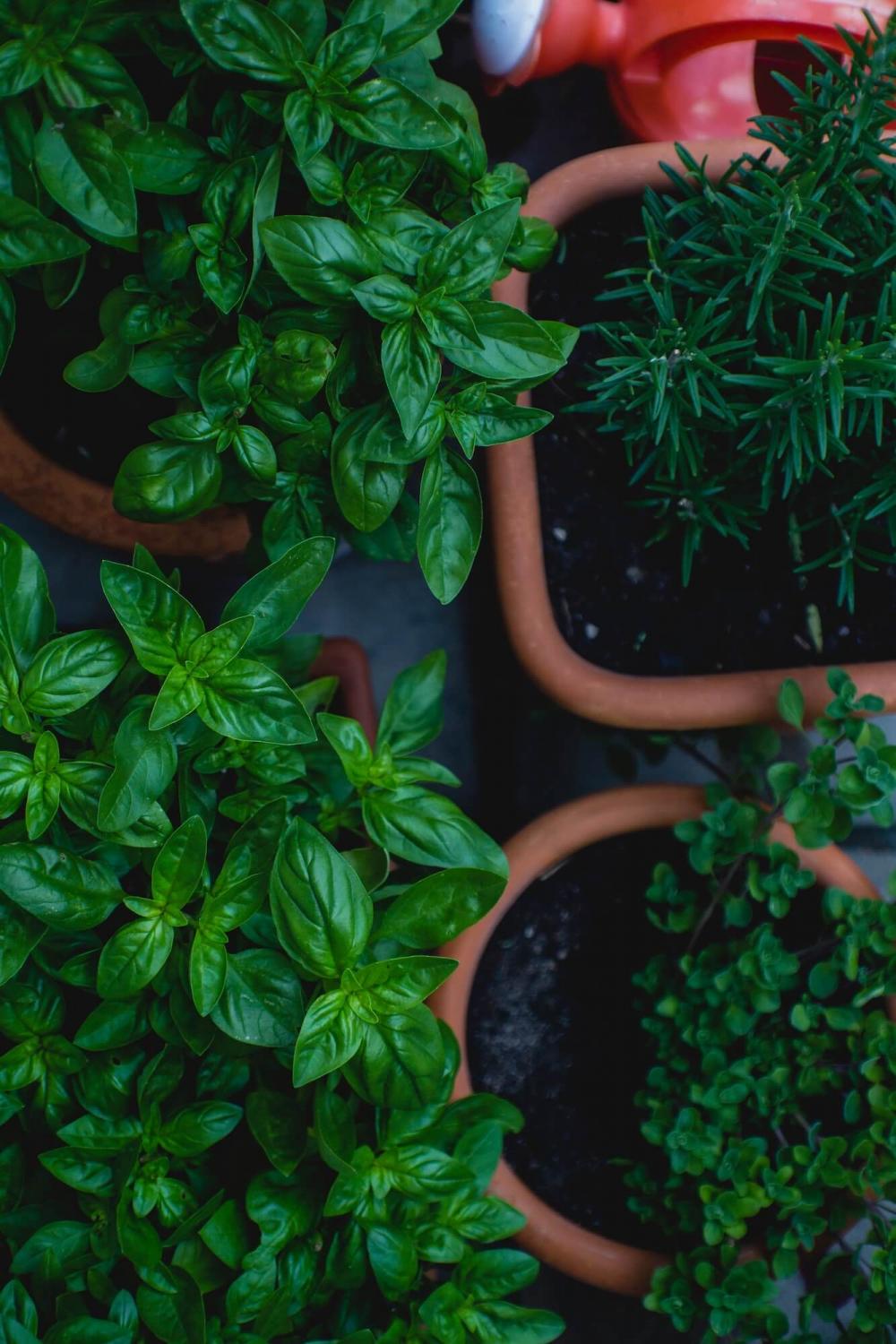 To keep your herbs in full bloom, dead stems and leaves should be removed regularly. The plants will not only look more beautiful, but it also creates space for new herbs to grow.
Herbs that like a lot of sunlight may dry out quickly. To prevent this, you can use terra cotta or clay pots for planting herbs as they can store moisture better than plastic. In addition, a thin layer of sand on the bottom of the pot can prevent it from drying out. If you want, you can also cover the earth with bark mulch.
As mentioned above, when planting seeds it is important to keep in mind the different seasons and in which period they are best harvested. But the time of day can also play a decisive role. The best time to harvest herbs is actually in the morning when the plant is at its freshest and has a high content of essential flavourings.
With little skill, create your own herb paradise
If you choose to consider the tips above, you will quickly get a sense of when it is the right time for you to grow your own little garden. With beginners or advanced green fingers and enough care, a herb garden can be grown very easily and above all, cost-effectively. And from now on, you will always know exactly where your herbs come from.